You have already found your favorite mascot costume?
But the color does not agree with you? Or does not fit your corporate identity?
No problem! Because at mascot24 we work true to the motto: the customer is king! And if you imagine a different color scheme, then we do not want to deprive you of this.
All mascot costumes, which are presented on our shop pages in a specific color scheme, we can colorize for you in color. You are therefore spoiled for choice and are not bound by the color design of the individual mascot costumes on our shop pages. So you can easily tell us your color preferences - and within a short time you will receive an individual offer to change the color of the mascot costume. Or Select the "Color change" option directly on the product.


In most cases, our mascot costumes pretty much meet the tastes of companies, clubs and other people. But just as you should stay true to the color line within your corporate identity ... and if that means you need a different color for your mascot costume then this should be the smallest problem!

If you have any questions about the color change, please send us an e-mail or give us a call, we will be happy to help you ...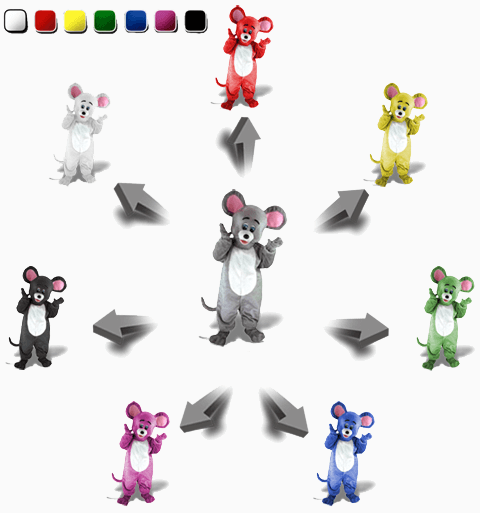 The colors of the fabrics may differ with the costume pictures. This is partly due to the age of the photos or the different fabric colors in the delivery / production of the fabrics.
Unfortunately, they can change over the years from our fabric producers.
(The respective color setting of your monitor can also make a difference !!!)
Unfortunately, it is not possible for customers to supply the fabrics with a 100% color fidelity to HKS-Pantone color fans, only certain basic colors are in stock.
On request, we will gladly send you photos or fabric samples (against a nominal charge) of the fabrics before placing an order.
After order (completion) a complaint / exchange of the fabric color is no longer possible!